Asylum seekers are entitled to reception. This right includes medical care. The COA is responsible for organising and funding this access to care.
GP consultation hour: Health Centre for Asylum Seekers
For GP care, asylum seekers go to the Health Centre for Asylum Seekers (GZA) , a national GP practice of healthcare organisation Arts en Zorg. There is a health centre in or near every reception centre. In this centre a GP works together with a practice nurse, an assistant practitioner for mental healthcare (poh ggz) and a practice assistant. They all have good awareness of language and cultural differences.
If necessary, the GP refers patients to other care providers, such as a medical specialist.
If an asylum seeker speaks Dutch (or English) insufficiently, a care provider can also call in a professional interpreter. The COA will then pay the costs.
The Practice Hotline: 24/7 contact with the GZA
For medical questions, asylum seekers can call the Practice Hotline (Praktijklijn) 24/7. This is the central contact centre of the GZA. On working days, asylum seekers can use this number to make an appointment with the GP practice, GZA, and other care providers.
More information?
On its website, the GZA has practical information for asylum seekers and for medical professionals. For instance about the Practice Hotline, medicine use, requesting medical data, and calling in an interpreter.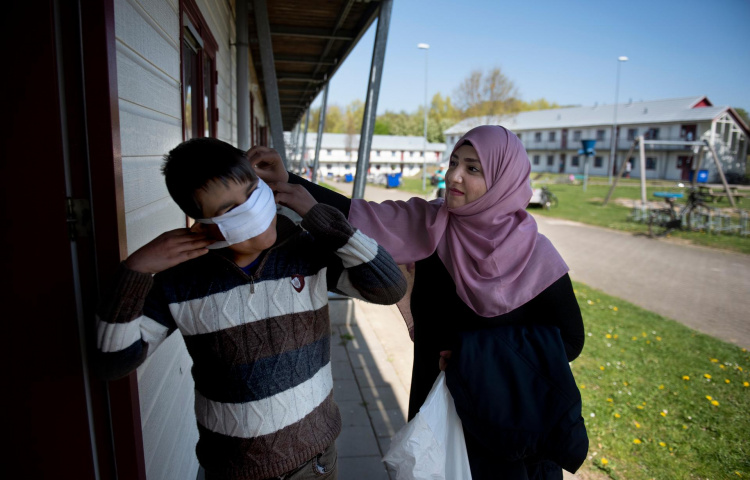 The coronavirus: measures in reception centres
The COA follows the COVID-19 guideline and the recommendations by the central government and the RIVM. This means among other things that everyone keeps 1.5 meter distance from each other during group activities.
Support and prevention
The COA has the task to inform asylum seekers about how healthcare has been organised in the Netherlands. The tasks of the COA also include detecting sociomedical problems and supporting those residents who are less self-Reliant.
COA employees inform new asylum seekers in a group session what the differences are between medical care in the Netherlands and their country of origin. When they arrive, we give asylum seekers information about medical care in the reception centre, about the Practice Hotline (Praktijklijn), and when they have to call 112 or an emergency. We also share published information about medical care.
On the website MyCOA, sylum seekers can find practical information in 11 different languages, such as opening hours of the GZA GP practice and medical service providers in the area. Of course, they can also ask their questions about healthcare at the information desk in the reception centre or a living supervisor.
When they arrive, we always offer asylum seekers a medical intake. It is not compulsory. And if an asylum seeker comes from a country with an increased risk of tuberculosis (TB), like Eritrea or Ethiopia? Then he or she will undergo a compulsory TB check. To establish the risk of TB, we use the data from the KNCV Tuberculosis Foundation.
Municipal Health Service (GGD)
The Municipal Health Service (GGD) is responsible for public healthcare for asylum seekers, just like it is for all other inhabitants of the Netherlands. This care includes the prevention and treatment of infectious diseases, providing health information and pediatrichealthcare (JGZ), among other things.
The GGD provides group information in every reception centre about different themes, such as self-care and psychological and sexual health. The GGD also carries out the compulsory TB check upon arrival, for asylum seekers from countries where TB is common.
We procure part of the healthcare from the GGD, for example vaccination of children. Moreover, the GGD checks the hygiene in our reception centres and provides group information sessions.
BAMBOO: groepspreventie psychische klachten
In opdracht van het COA ontwikkelde GZA voor asielzoekers het programma BAMBOO. Asielzoekers kunnen in alle azc's een BAMBOO-training volgen. In de training leren asielzoekers de eigen veerkracht versterken, stress en psychische klachten (h)erkennen, en hoe zij eventueel hulp kunnen zoeken bij een professional. Er zijn BAMBOO-trainingen voor volwassenen, jongeren en kinderen.
Pediatric services
Since 1 January 2019, municipalities are responsible for pediatric services to children living in a reception centre and unaccompanied minors (UAMs). Municipalities are given funding for this on the basis of the number of children in COA reception.
The pediatric nurse of the contracted organisation for Pediatric Healthcare (JGZ) is the link between the COA and the municipal (or regional) pediatrich support structure.